France Duval Stalla coat: fabric & size
By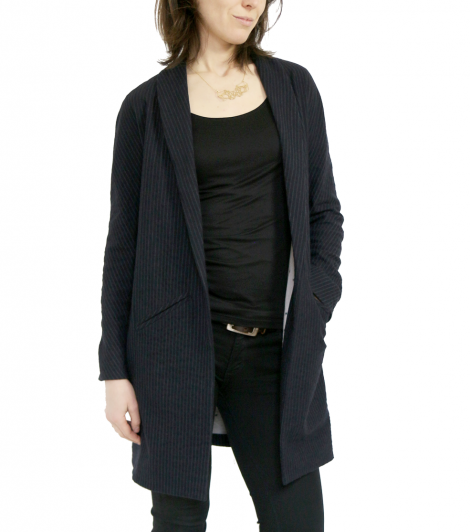 What type of wool should you use for the France Duval Stalla coat?
Choosing the right wool for a coat is not always easy. It's one of the most expensive types of material, so it makes sense to pick the right one first time. And it should also go well the style of the pattern because frankly, it's impossible to throw something in the trash after putting all the hours of work in to making it eh! ;-)
I will try to give you some advice about choosing a wool best suited to the France Duval Stalla coat pattern, and the way you want to wear it..
Firstly, let's go back to the pattern itself... Designed by France Duval Stalla, I think it fits perfectly with their Parisian elegance, making it a chic and totally timeless pattern.
Actually, France wanted it to fit close to the body. We have called it a "coat", but in reality, it's closer to a jacket-cardigan because it's difficult to fit a big sweater underneath, unless you make it 1 to 2 sizes bigger. Also, a simple button closure on the edge gives it a mid-season style, but does not really permit one to wrap themselves up, unless it's used over the top of a thin puffer jacket.
For your benefit, I assigned myself the task of trying it in different sizes and various fabrics. It's a hard sacrifice eh?! Oh OK, yes I was very happy to have an excuse to add these lovely pieces to my wardrobe ;-)
Let's move on to the examples.
Below, I made it in a fine France Duval-Stalla wool, in a size 38, I am half way between a size 36 and 38 (now you know everything;-))
This fabric is slightly embossed which I find irresistible and it has an incredible softness about it given it's wool. Its stretching capacity is about 20%, which is quite a lot for this type of fabric. Initially it made me hesitate, but in the end I had no regrets. On the contrary, it adds a lot of comfort to the coat when it's next to the body. In fact, I could easily slip a little wool underneath.
For the lining, I chose Atelier Brunette fabric. There too, it's total joy, the fabric is beautiful, supple and super soft. Watch out when lining the arms, it's important to ALWAYS choose a synthetic liner or run the risk of having a lot of trouble dealing with it!
At the moment, I am wearing this like a lightweight jacket, it needs to go under a coat when going out. I think the length is super elegant and I am a fan of the pockets... It will definitely become my favorite half-season coat as soon as the nicer days return.
Conclusion: fine wool with 15 to 25% stretching capacity. Wear like a cardigan or mid-season coat --> make half a size bigger than your actual size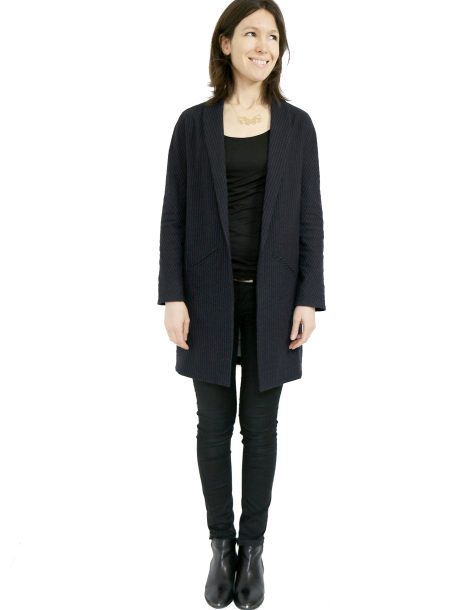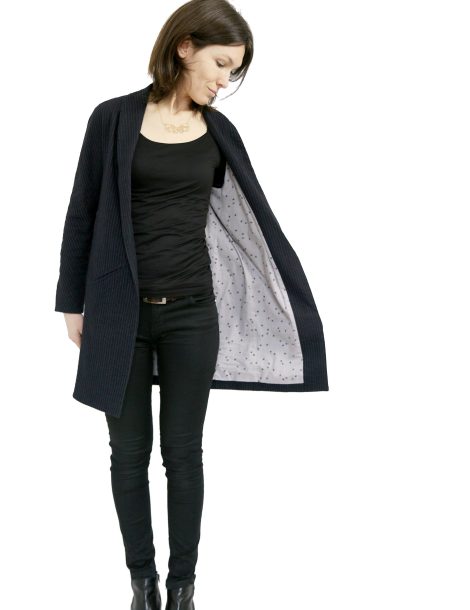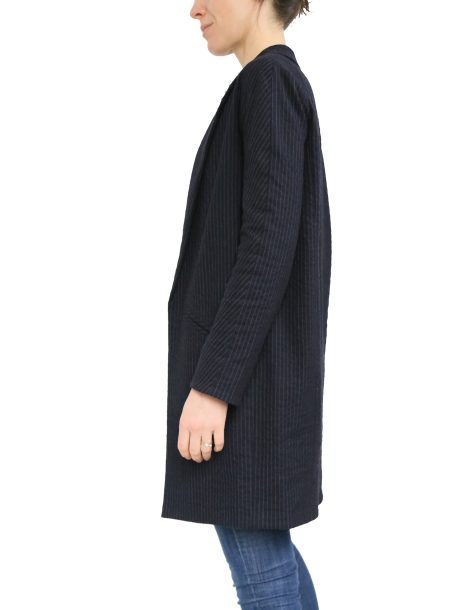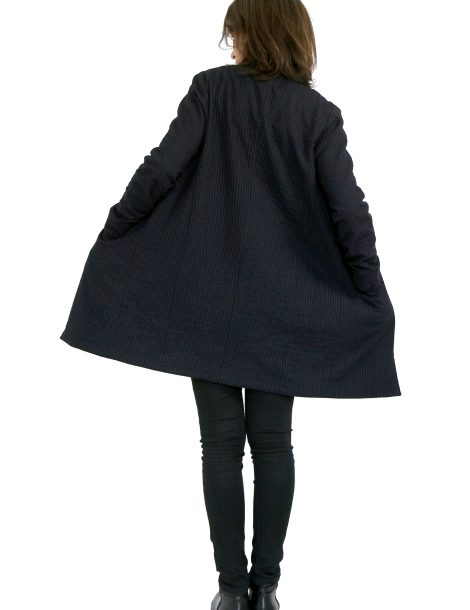 The second version, sewn a while ago given I showed it at the last CSF exhibition. It was also made in France Duval-Stalla wool but this time in a size 36.
Unlike the version above, this material has very little stretching capacity, around 8%. Which, added to the fact that the pattern is on the smaller size, makes it too snug for my usual 36-38 size.
But other than that, the material falls absolutely perfectly for this style of pattern.
Conclusion: fine wool with 0 à 10% stretching capacity. Wear like a cardigan or mid-season coat --> make one to one and a half sizes bigger than your actual size.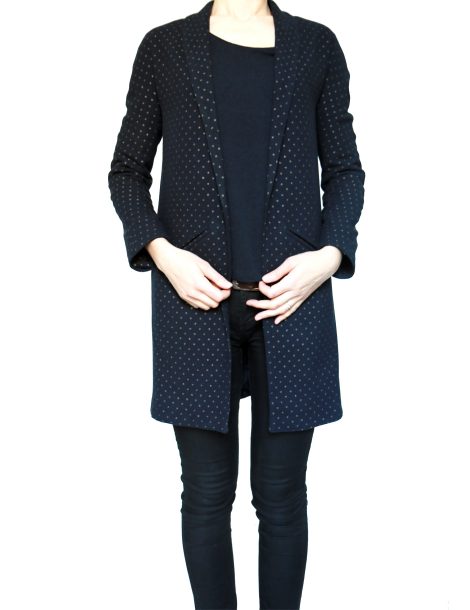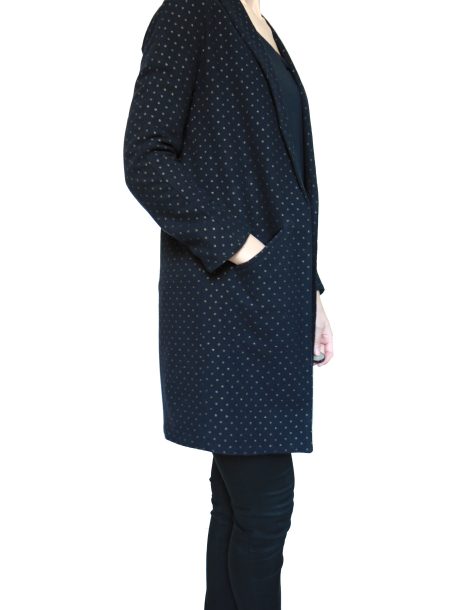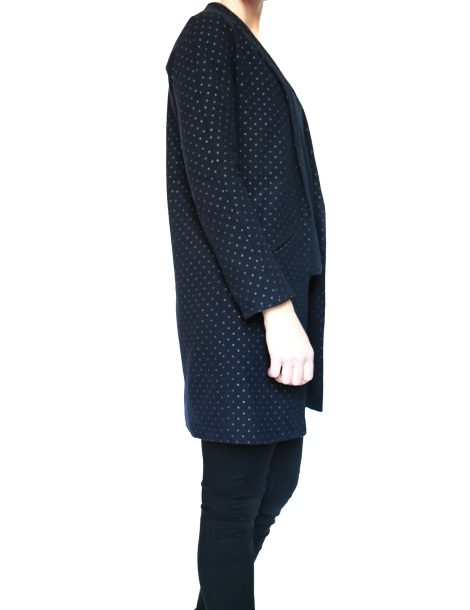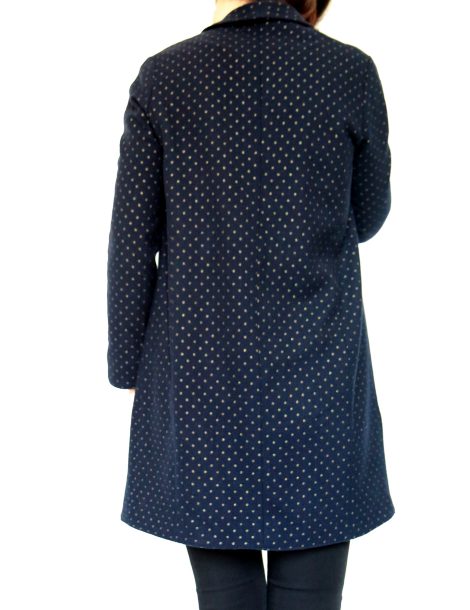 And finally, my last creation made from a sublime Anna Ka Bazaar wool. I looked for a long time to find a thick, dense and fairly stiff wool to test how it would work with this pattern. Initially uncertain, I was won over ultimately!!
I made it in a size 40, because the idea was to add a button and be able to wear it over a thin puffer jacket. Objective achieved! It is super comfortable and the larger size gives just enough flexibility and also width across the shoulders without making one look like a weight lifter up top...
Conclusion: thick wool with 0 à 10% stretching capacity. Wear like a coat --> make two to two and a half sizes bigger than your actual size,
I hope that it helps you!!! If not, you can email me any questions you may have ;-)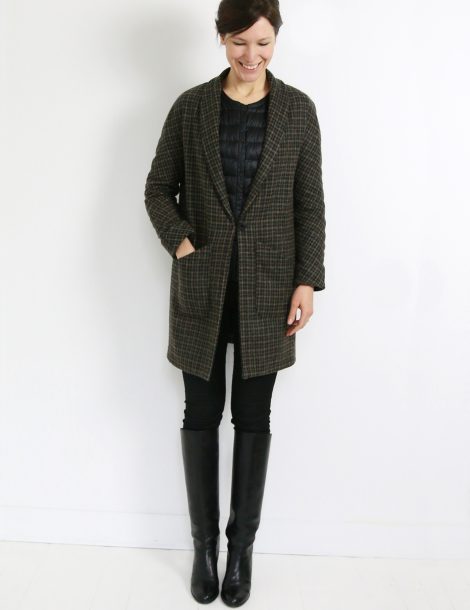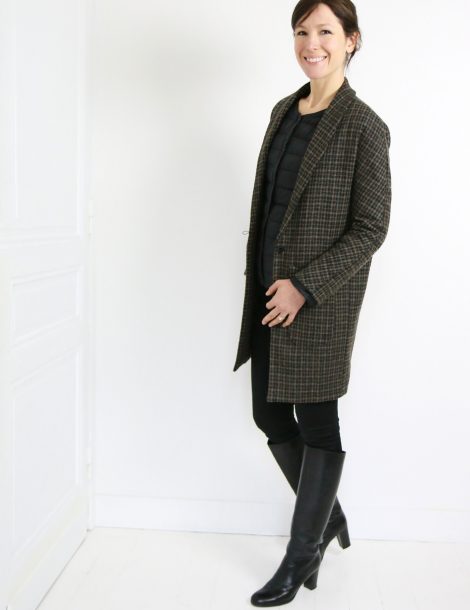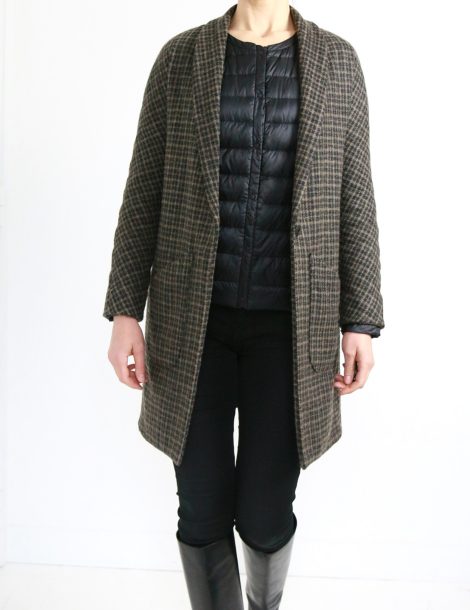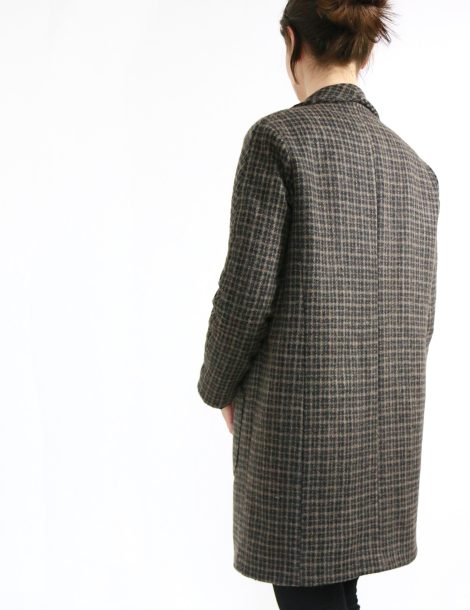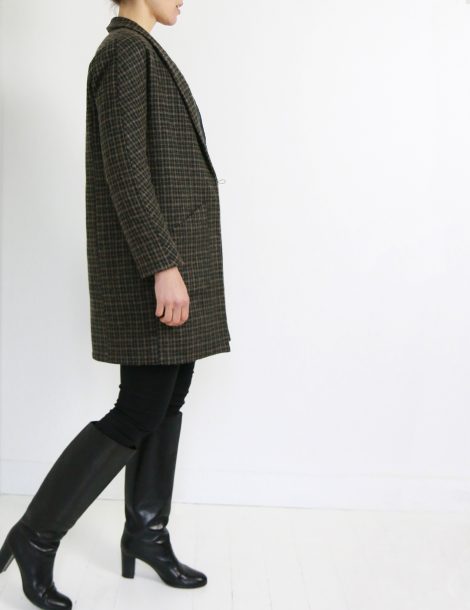 &nbsp; What type of wool should you use for the France Duval Stalla coat? &nbsp; Choosing the right wool for...<br><a href="https://www.atelier-scammit.com/blog/185-2/" rel="nofollow">Read More</a>